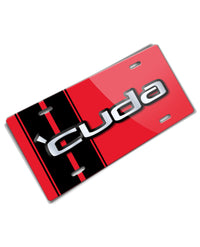 1970 - 1974 Plymouth 'Cuda Emblem Novelty License Plate
Product Code:
PLY_LOGO_RCNG_STRP_70_74_LP_BLACK
Plymouth 'Cuda 1970 - 1974 Novelty License Plate

In 1970, the dramatically restyled Barracuda and its high-performance brother, known simply as the 'Cuda, would become some of the most desirable muscle machines ever built. With a long list of options and an incredible color pallet, the 'Cuda demanded not only attention, but respect. The E-body platform became shorter, lower and wider and quickly distinguished themselves from their GM and Ford rivals. The redesign was done, in part, to make room under the bonnet for Chrysler's Raise Block engines, both the 440 ci and the 426 ci Hemi with its huge cross-flow cylinder heads. The Barracuda was available in convertible and hardtop configuration; the fastback was no longer offered. Several versions would be offered, with one of the hottest being the AAR, named for Dan Gurney's All American Racers. The AAR 'Cuda was a single-year offering with many unique features. Among them is the triple-carburetor 340 cubic-inch engine, a fiberglass scooped hood, side-exit exhaust, and staggered size raised white letter tires. Nevertheless all 1970 - 1971 'Cuda are great collectors and pretty as ever.
Perfect for all car enthusiasts that want to enhance the front look of their Plymouth Barracuda 'Cuda 1970 - 1974. These Novelty License Plates look great on the front of the car or a wall at home, garage, office, workshop, Man cave, private roadways or anywhere you feel you deserve a special deco spot. This is the ideal gift for any car enthusiast.
Available in: Tor Red - In-Violet - Lime Light - Vitamin C - Lemon Twist - Moulin Rouge - Blue Fire - Ice Blue - Black Velvet - Deep Burst Orange - Rallye Green - Jamaica Blue - Gray - White
Made of .032 Aluminum
6" x 12" (153 x 306 mm) standard automotive license plate size
4 holes for easy mounting
Water-resistant
UV protected for outdoor use and durability
Made in USA
* Plymouth or any other marks are registered trademarks. Our products are not approved by any of these manufacturers and trademarks. We do not imply any association with these manufacturers and references are based on historical information in the public domain. While every endeavor has been made to accurately reproduce colors, there may be variations compare to the actual and true Plymouth colors, because of the print / sublimation process