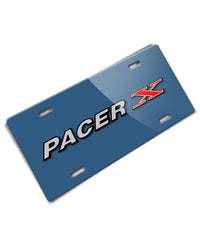 1975 - 1980 AMC Pacer X Emblem Novelty License Plate - Vintage Emblem
Product Code:
AMC_PACER_75_80_LP_BABY
AMC Pacer X 1975 - 1980 Novelty License Plate
When AMC introduced the Pacer in 1975 it was unlike any other vehicle on the road. It featured a unique hatchback design, a passenger's side door that was larger than the driver's door, a high glass area, a sloping hood, and a design which is one of the most recognizable of all times. In total, 280,000 examples of the AMC Pacer were built between 1975 and 1980. The design is still considered controversial. Its wide body and short design was uncommon. Also, a small car being powered by large engines did little for its fuel economy or its appeal. But the Pacer is cool, and in which other car Queen's "Bohemian Rhapsody" could sound that good?! Scwiiiiiiiiing!
Perfect for all car enthusiasts that want to enhance the front look of their AMC Pacer X 1975 - 1980. These Novelty License Plates look great on the front of the car or a wall at home, garage, office, workshop, Man cave, private roadways or anywhere you feel you deserve a special deco spot. This is the ideal gift for any car enthusiast.

Available in: Baby Blue - Black - British Green - Cattail Brown - Dark Red - Good Orange - Gray - Hot Pink - Italian Red - LeMans Blue - Light Green - Military Green - Racing Blue - Steel Blue - White - Yellow
Made of .032 Aluminum
6" x 12" (153 x 306 mm) standard automotive license plate size
4 holes for easy mounting
Water-resistant
UV protected for outdoor use and durability
Made in USA

* AMC or any other marks are registered trademarks. Our products are not approved by any of these manufacturers and trademarks. We do not imply any association with these manufacturers and references are based on historical information in the public domain.