Posted on December 23 2020
Hagerty Media By Jeff Peek Dec 17, 2020
No one knew when the Black Ghost might appear, but they certainly knew where. It was the early 1970s, the height of the muscle car era, and if you had a hot car and something to prove, Woodward Avenue and the more secluded back streets of Detroit were the best places to do it.
And nobody did it better than a sinister Hemi-powered 1970 Challenger R/T SE known as the Black Ghost. The nickname seems appropriate, considering the car's black exterior paint, Gator Grain black vinyl top, and black interior—although the Challenger never stuck around long enough for anyone to see that interior. It had a mysterious penchant for materializing, winning, and then vanishing.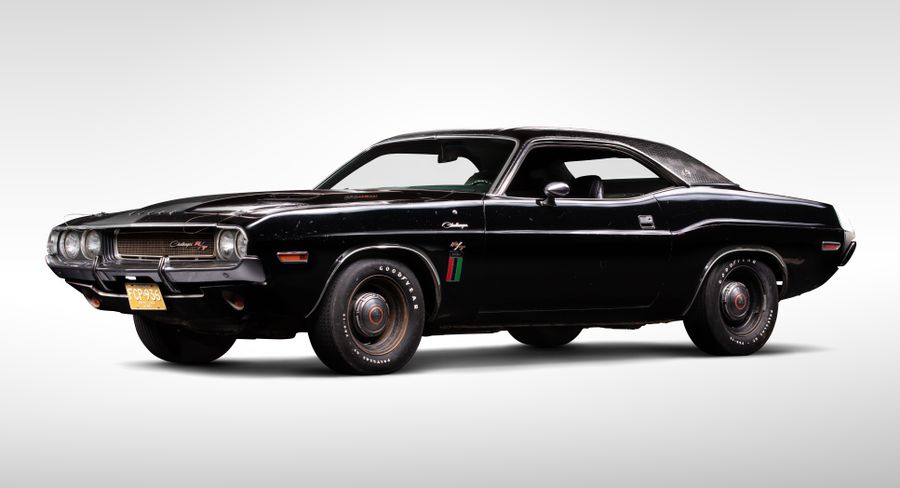 "It would appear on Woodward, make a couple of passes, (and) then you wouldn't see it for a month or two," Mopar collector and mechanic Dean Herron says in the latest video release from the Historic Vehicle Association, which celebrates the car's addition to the National Historic Vehicle Register. "Everybody knew the car existed, but nobody hardly saw it."
The Ghost showed up on Woodward in the spring of 1970, blew the doors off every competitor, and then drove off into the darkness before anyone could answer the question, "Who was that?" Weeks would pass, and the menacing Challenger would reemerge from the shadows, dominate, and disappear once again. Its legend grew. And then it vanished for good.
No one knew why. Well, not exactly no one. Godfrey Qualls knew, as did his best friend, Curtis Neal, and both had reason to keep quiet. Qualls was the one racing the Challenger, and he was a Detroit police officer.
Godfrey Qualls grew up in Nashville and moved north at age 12 when his family sought work in the automotive industry. Qualls served as a paratrooper in the Army's 82nd Airborne Division and received a Purple Heart after being injured by a grenade in the mid-1960s.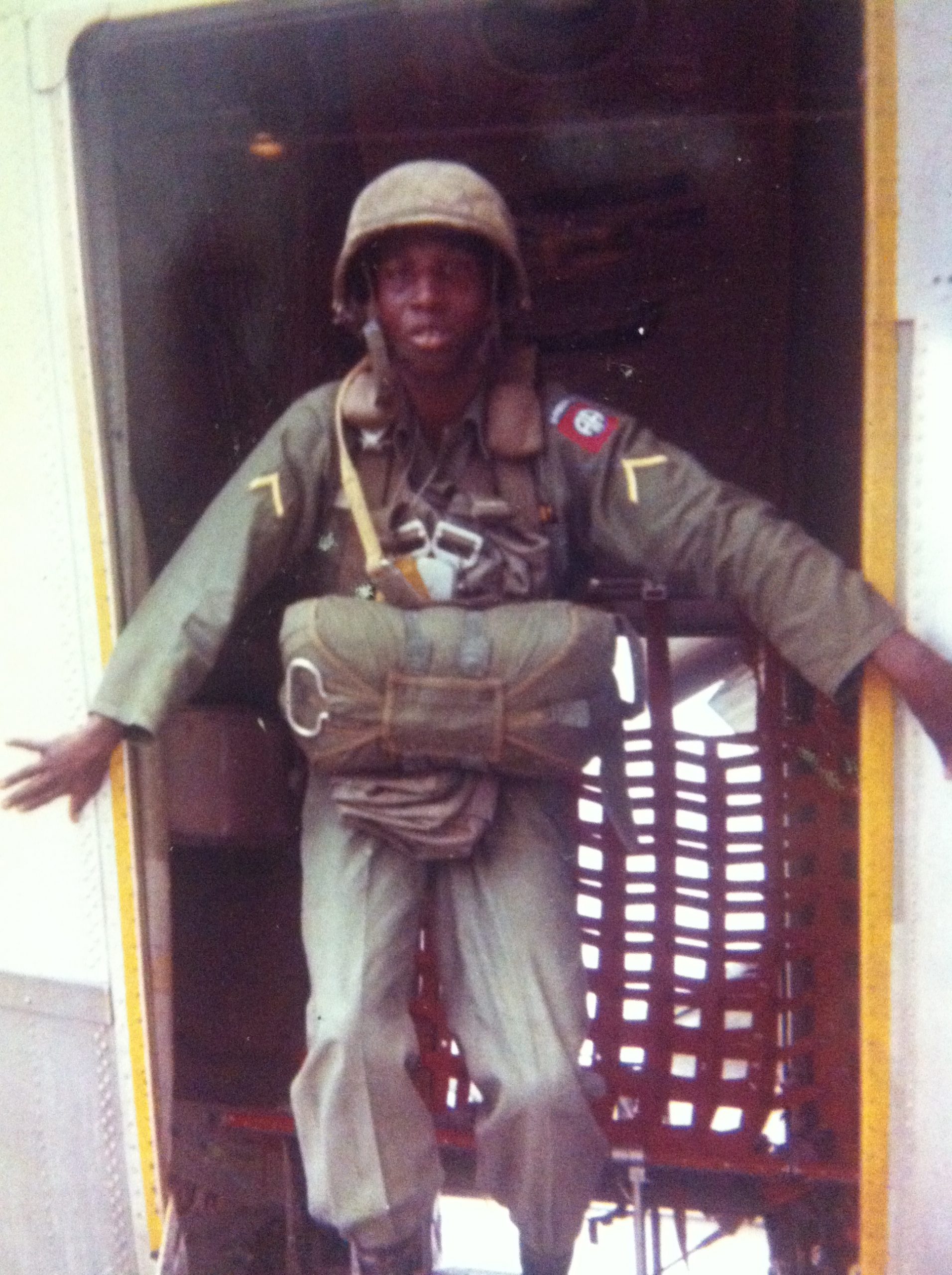 "It was an addiction. I loved my job," Qualls said in an interview filmed before he passed away in 2015. "I was dedicated to my job; they took care of me. I really wanted to stay in." But Qualls missed his adopted hometown of Detroit, and upon his release from the military he accepted a job there as a motorcycle cop.
"The kids were fascinated … And he was the kind of guy who took interest in the kids, raising them right," his best friend says. "Being a policeman, he got a lot of respect."
Godfrey's son, Gregory, says his father was perceptive, which made him a stronger police officer. "My dad was a very good judge of character. He had to be. When you pulled people over, it's the way you talked to (them). He'd get to know you. You didn't want enemies on the street. You had to relate to people in your community. I would say he was the definition of community policing."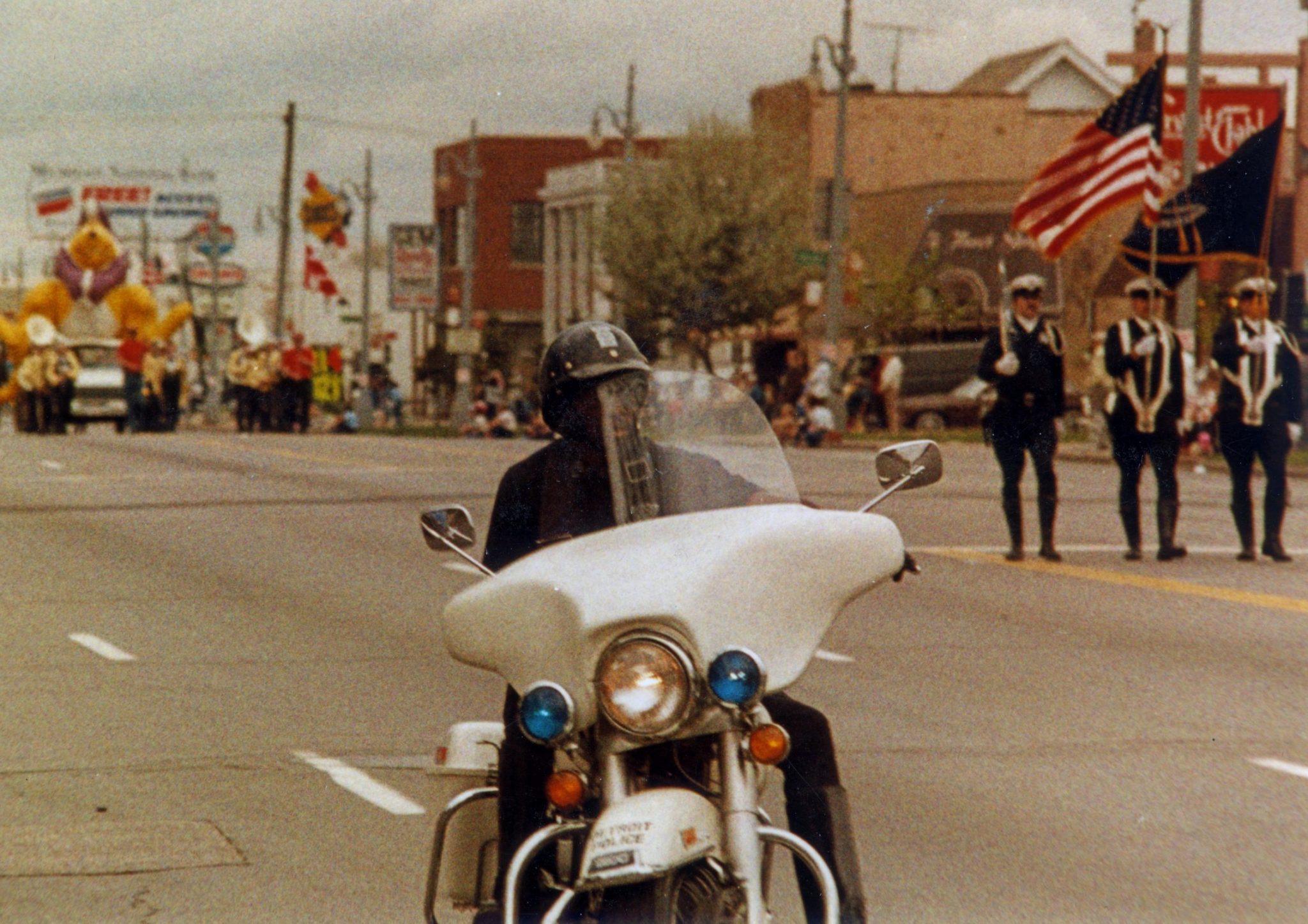 "You have to be fair," Godfrey explains in the video. "You have to be honest. And you have to make good judgments."
Qualls made a lot of them, and that included what car to buy and what options to add.
Chrysler developed the Hemi engine in the early 1960s, making it available only in race cars. By 1966, however, you could order one in a production model, and by 1970, the top-of-the-line Hemi was a 426-cubic-inch V-8 that produced a reported 425 horsepower (but was likely closer to 470 hp). Dodge put out a television commercial in which a police officer pulls over a new Challenger owner and begins writing the driver a ticket for operating a race car on a public street. "If you can handle the way people react to your 1970 Dodge Challenger," the ad concludes, "you could be Dodge material."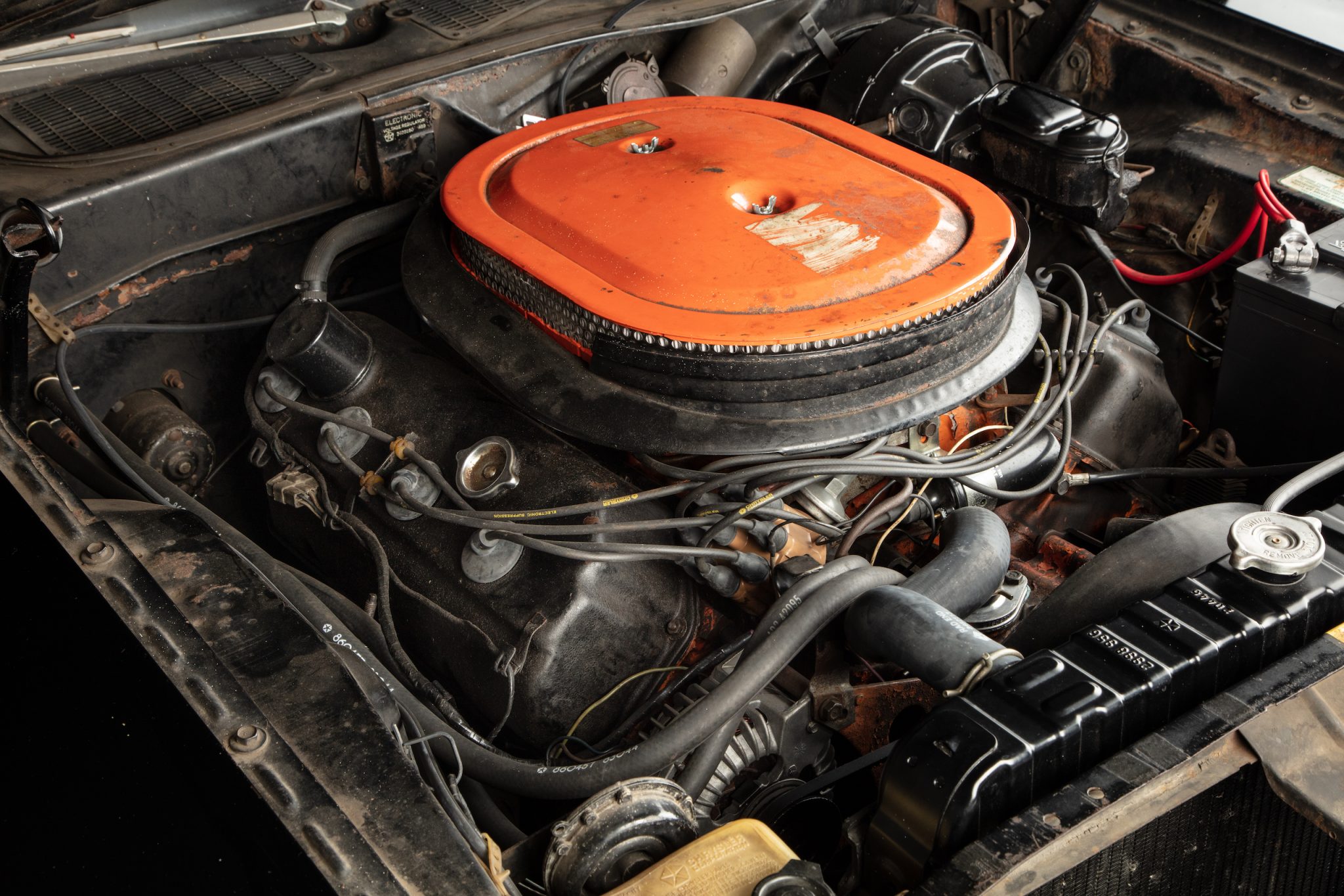 There's no telling if Qualls saw the ad before he ordered the Black Ghost, but it certainly summed up his attitude when it came time to buy it. He purchased practically every option available.
"Not too many guys checked off all the boxes that Godfrey did," Dean Herron says. "That is one very unique individual—and car. All these big Mopar collectors, they would kill to go to the dealer and order this car. And he had the foresight (to do it). I think he's one of the smartest guys to ever order a Hemi car."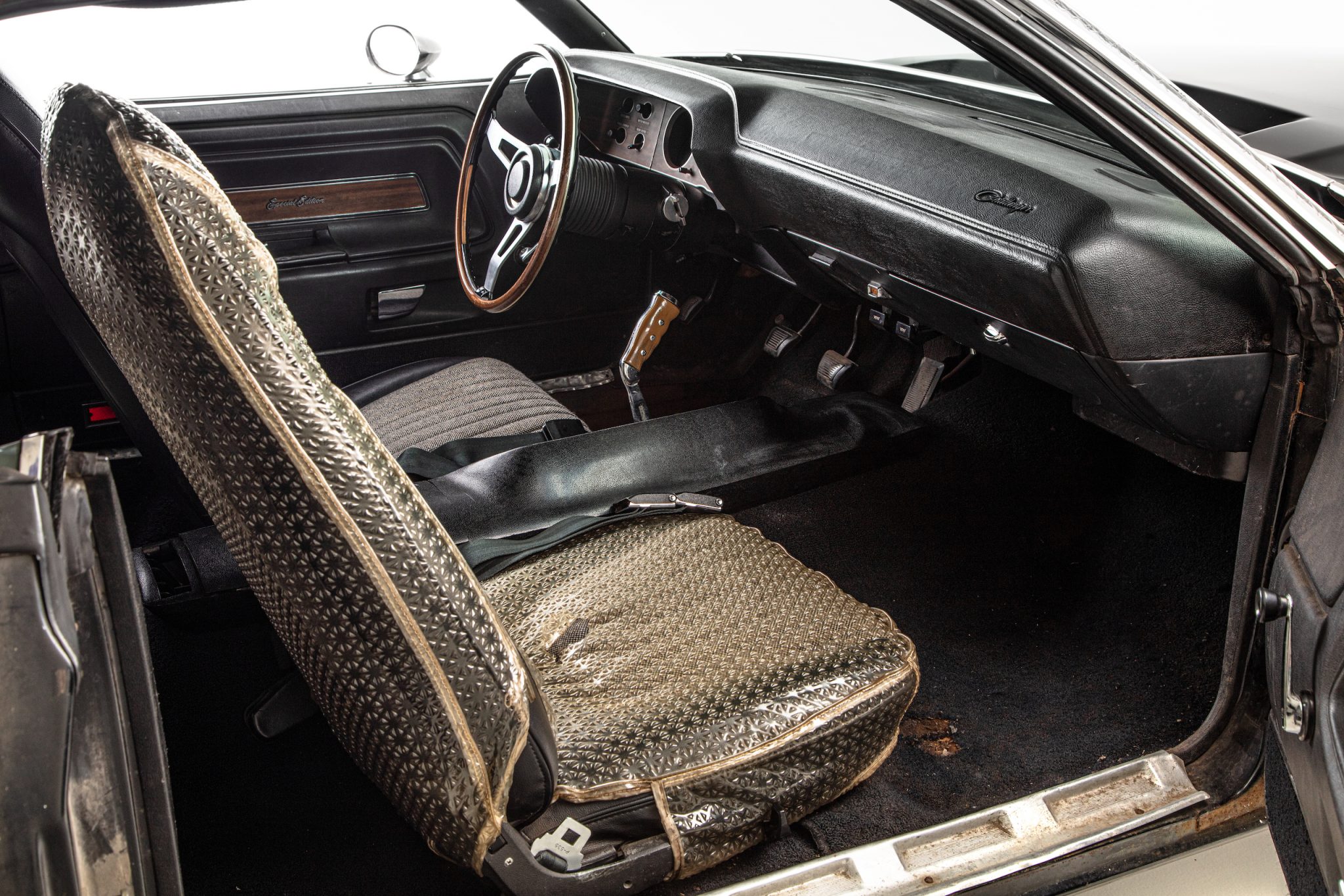 Qualls not only ordered his dream car with the R/T and Special Edition (SE) packages and the monstrous 426—a 23 percent upcharge of $778.75 ($5522 today)—but he made sure to include the Super Track Pak with four-speed manual transmission and floor-mounted Hurst pistol grip, which sent power to a Sure-Grip Dana 60 with 4.10 gears. For style, he equipped the hardtop street bruiser with a "bumble bee" white stripe on the tail, hood pins, houndstooth interior, and the real conversation piece—the Gator Grain black vinyl top. Qualls' car is one of just 23 Hemi four-speed R/T SE Challengers sold in the model's debut year, and it is possibly the only car ever built with these performance and trim options.
His son jokes that the Gator Grain was a mistake. "He wanted (plain) black vinyl, but (Dodge) screwed it up royally," Gregory Qualls says. "He loved it and he didn't love it at the same time."
"And sure enough," Neal adds, "that's what makes the car unique."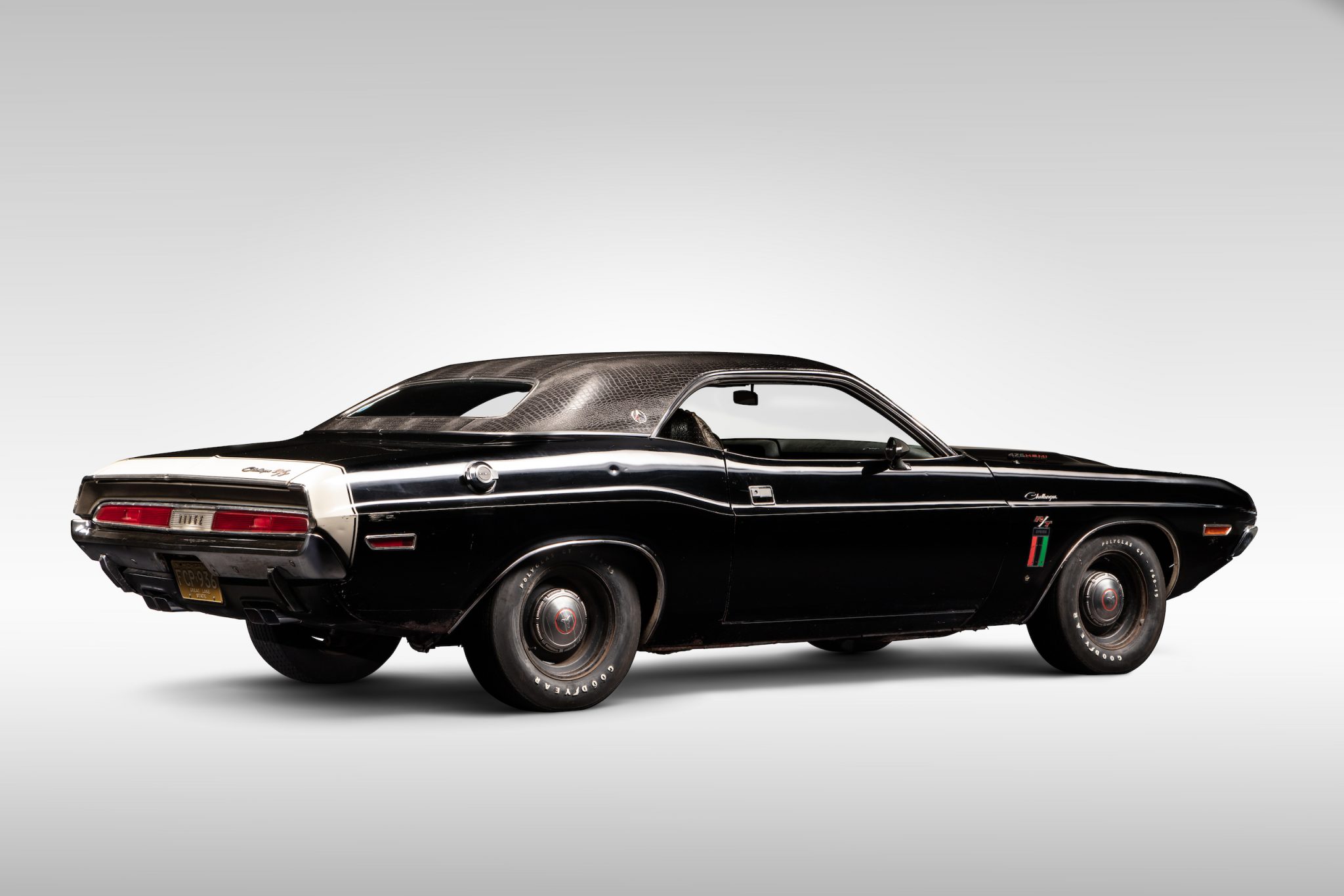 Qualls even had a trailer hitch installed so he could trailer his 1968 Norton Commando motorcycle. You don't often see that on a muscle car either.
Qualls' new triple-black Challenger was delivered in the spring of 1970 and, as Neal says, "when May and June came, that car was a terror on the street."
Herron quickly became a fan of street racing and the legend of the Black Ghost. "Our street that I grew up on … they'd come by your house and do a burnout. It was like calling you out. Then they'd all go down the street, (and) me and all the kids in the neighborhood would all grab our Schwinns and go on down there and watch them race until like two in the morning."
Qualls, Herron remembers, "would just cruise up and down, and guys would pull up next to him. And if you beat the other guy—first, second, third (gear)—to the next light, you were the winner. But Godfrey never stopped …"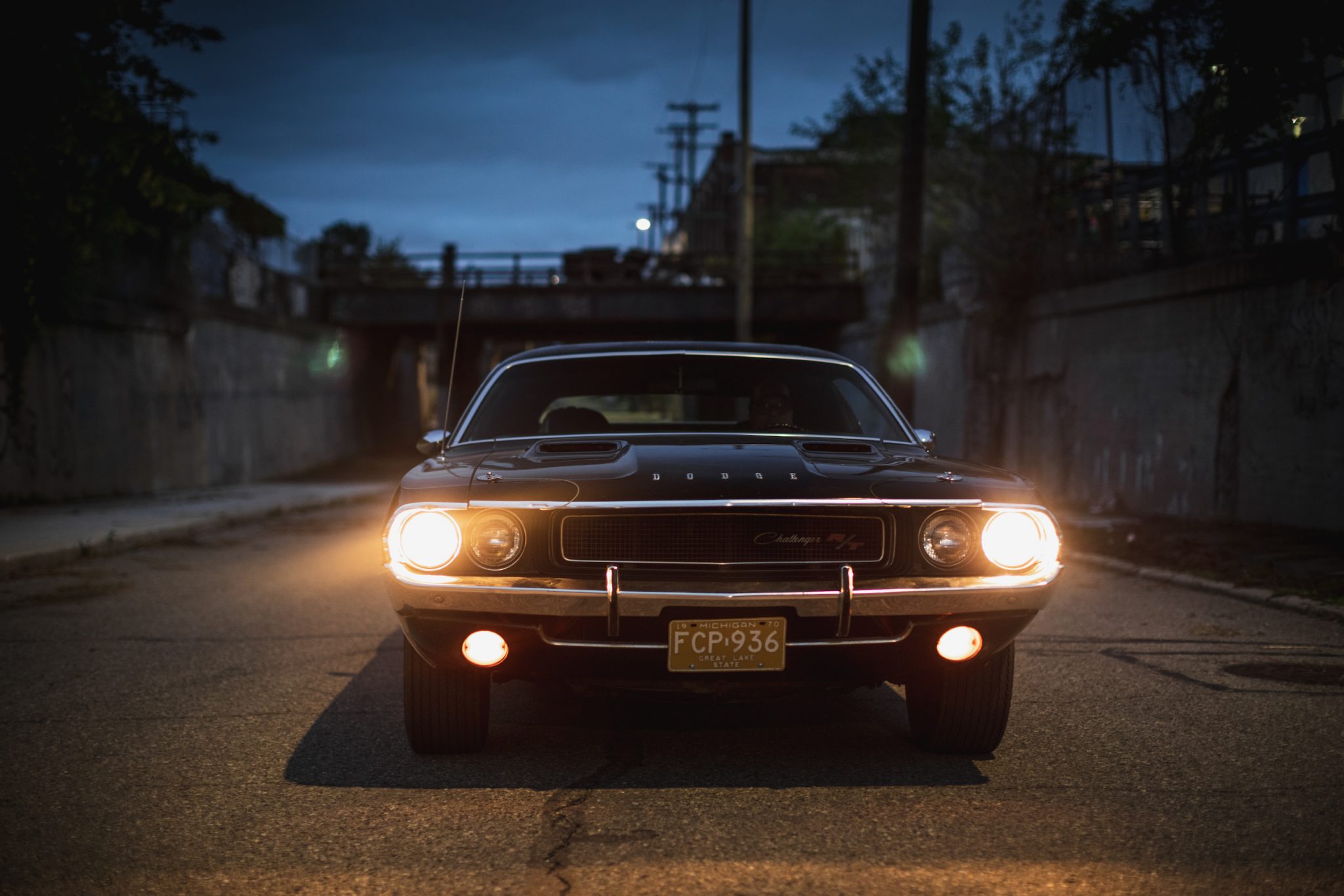 Most of the time Neal was riding shotgun. "It was beating everything—Vettes, Chevelle 396, 375 … those were nothing for this car … This car was the king of the street in those days."
Neal says the best spot for drag racing was Stucker Street, an industrial area with no houses or cross-streets, which allowed for full quarter-mile races where "police didn't bother you." Remember, at the time Qualls was the police, so he certainly knew where to go when you didn't want to get caught. Neal says it was all good clean fun, a "thinking man's game" that kept participants out of other kinds of trouble.
Gregory Qualls never knew about his father's street racing prowess until years later. "GQ kept it quiet," he says. Godfrey did, however, give his son a taste of the power of the Black Ghost.
"He taped a $100 bill to the dash and told me … 'When I say go, if you can reach it, it's yours,'" Gregory says. Just as Gregory began to reach for the bill, his father hit the gas, and he was immediately pinned back against the seat. "I couldn't get it … and I was scared. I remember that."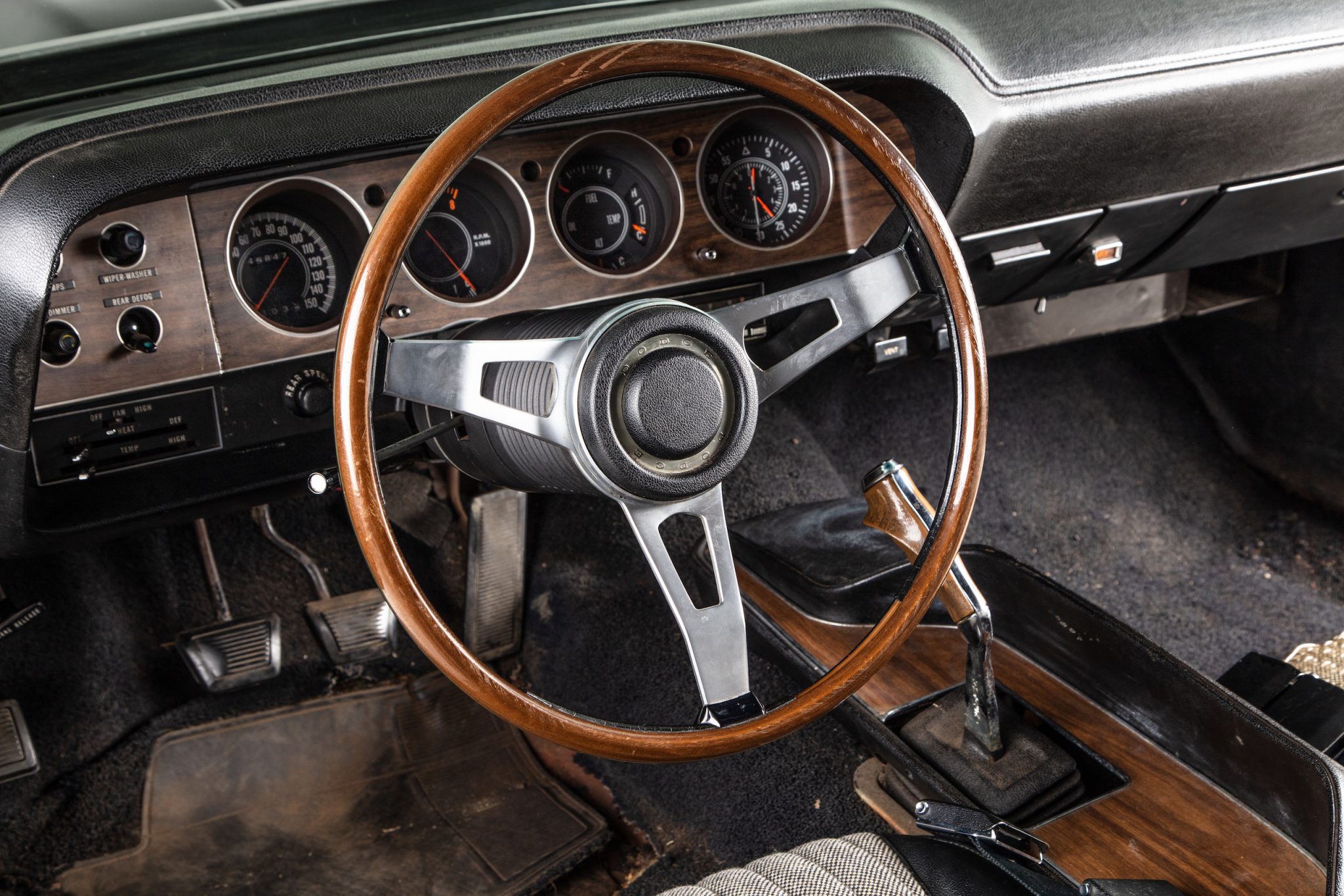 Gregory has an answer for the mystery of why Godfrey suddenly stopped street racing. His father rejoined the military in 1977 and became a Green Beret, and he parked the Challenger in the garage while he was away. Three years later, Qualls was home and wanted to get the car back on the road. That's where Herron comes in. A friend told him that he was "helping a guy" get a 1970 Challenger running, and he asked Herron to take a look at it. The owner, of course, was Godfrey Qualls, and as Qualls began regaling Herron with his street racing exploits, it began to sink in that "this is the Ghost."
After flushing the bad gasoline and getting the Challenger to turn over, Herron says, "We just couldn't take the grin off our face."
Years later, in 2014, Godfrey invited his son over for a beer and told Gregory he wanted to show him something in the garage. Godfrey pulled the cover back on the Challenger, and the two cleaned it together. "I didn't know at that time," Gregory says, "(but) I think he was trying to tell me that he was sick."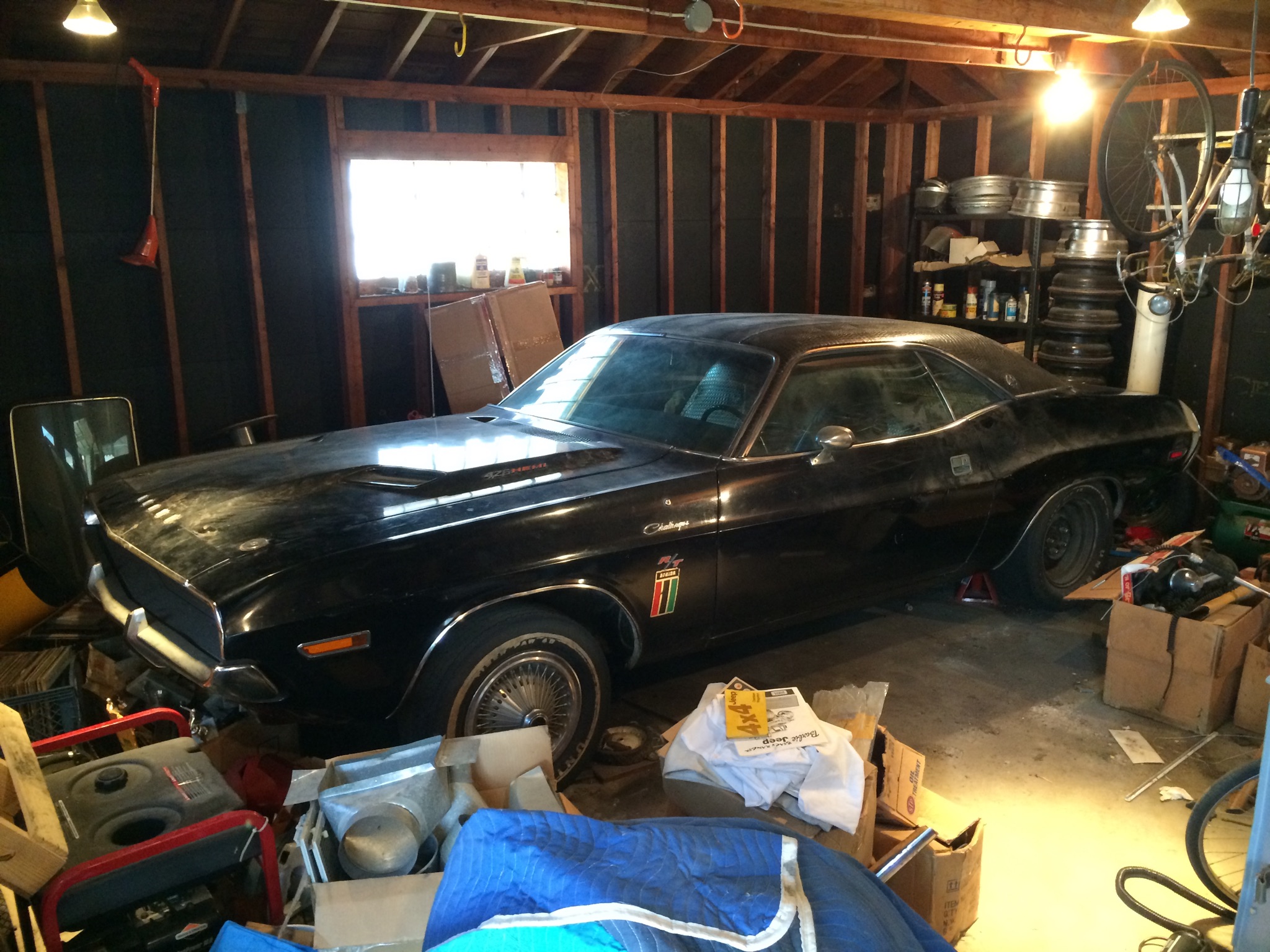 Godfrey had overcome prostate cancer in 2008, but the cancer was back with a vengeance, having metastasized into his bones. By December 2015, Godfrey was in the hospital and nearing the end of his life. On December 21, he asked his son to retrieve an envelope from his house and bring it to him.
"It was the paperwork for the car," Gregory says. "He just signed the title right there and gave me the title. It almost put me in tears because I never wanted the car that way. As he hands me the title, he says, 'Don't give my f***ing car away.' That's exactly how he said it."
Godfrey Qualls died on Christmas Eve 2015. "He's my hero," Gregory says. "I miss him."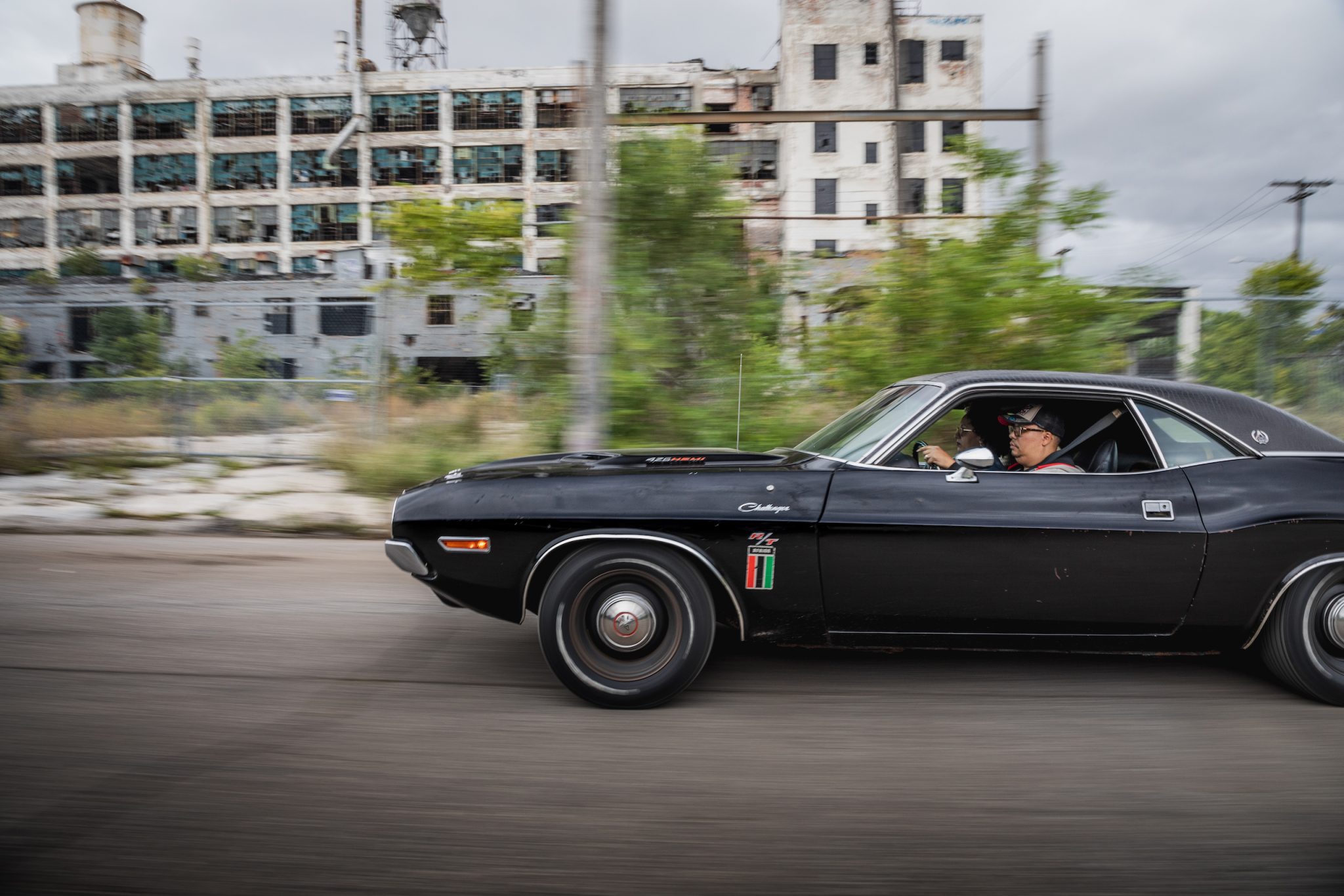 He also vows to keep the car in the family and someday pass it on to his own son. To that end, Gregory made it his goal to get the Ghost running so that he could enjoy it as his father would have wanted. Herron offered to help, again. He advised the family to let it remain a survivor car to preserve its incredible history, and they wholeheartedly agreed.
Herron says he was thrilled for the opportunity to get "reacquainted with the Black Ghost." He pauses to take it in. "I'm getting goosebumps. This car is the coolest car I've ever been associated with."
Gregory says there have been plenty of goosebump moments for him too. "When the car came out of the garage for the first time under its own power, that was a sight. That was a moment. It was like, 'Wow. Yes, Dad, I did it … We did it.' Whenever I spend time with the car, it's as if I'm spending time with my dad."
That's how the Black Ghost lives on.

The 1970 Challenger has left indelible memories in my love of cars. First it was the red and white little Matchbox toy I loved to play with. Then of course the action movie: Vanishing Point. So when time came to design the Challenger, it was a real pleasure to finally explore in details this Legendary car. I was not aware that so many options were available, and man, there are tons of options for the Challenger... I know I designed them all!

click here to see the 1970 Dodge Challenger Collection