Peugeot 204 Apparel and Accessories by Legend Lines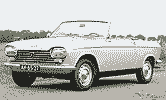 The Peugeot 204 was a small family car produced by the French manufacturer Peugeot between 1965 and 1976. It was available in many body styles including a sedan/saloon/berline, convertible/cabriolet, hatchback/coupe, estate/wagon, and a van. It was launched in Paris, France, on 23 April 1965 and became the best-selling car in France from 1969 to 1971. The car proved to have good handling, decent performance, and excellent fuel economy. 1966 saw the arrival of a two-door cabriolet and a three-door hatchback. In France it would be known as a "Décapotable." It is a car that was designed by famed Italian design firm Pininfarina,Both employed a shortened chassis and were priced only 20% above the level of the (admittedly not particularly aggressively priced) saloon. It was a 2-seater, but it is a very spacious 2-seater. The internal dimensions of the car were very impressive, eaquipped with large seats that were at the time considered to be one of the most comfortable production seats of that era. The Peugeot 204 Convertible was never imported into the US, so finding one of these on American roads today is a bit of a rarity. It was something a bit different to your average European convertible of the time. When the 204 production ended in 1976, it had no direct replacement and was filled in by the 304.
Showing items 1-11 of 11.