Citroen 2CV Deux Chevaux Apparel and Accessories by Legend Lines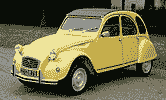 First introduced at the 1948 Paris Auto Salon, the 2CV Citroën was designed by Pierre Boulanger, was the most unique and extraordinary design of the auto show, but was not a flash car. The Deux chevaux, or 'two horses', 2CV most definitely made an impact on the world and especially on the back roads where they were the most useful. More than 3,872,583 2CV 4 Doors and even more derivatives during its production run between 1948 and 1990.
Showing items 1-10 of 10.