Peugeot 504 Apparel and Accessories by Legend Lines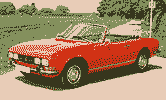 The Peugeot 504 was produced from 1968 through 1983 in Europe. At the 1968 Paris Auto Salon, the Peugeot 504 made its first public appearance. It was a sedan saloon. The car had modern styling and elegant appeal. It was awarded the European Car of the Year Award due to its versatility, value, and aesthetics.
Showing items 1-11 of 11.