Datsun 2000 Fairlady Apparel and Accessories by Legend Lines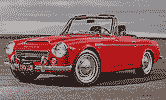 Called the Datsun Fairlady in the home market, the Datsun Sports was a sequence of roadsters that were produced during the 1960s. The Datsun 2000, which was also called the was introduced in March 1967 and continued in production until April of 1970. Reputed as a bargain sports car, the Datsun 2000 was produced to help build the Datsun racing image up with a lower price tag than any vehicle in its class.
Showing items 1-12 of 12.