Saab Sonett III - 97 Apparel and Accessories by Legend Lines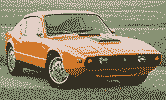 The Saab Sonett III, also designated the Saab 97, was the answer to the outdated look and design of the precedent Sonett II. It was introduced at the New York Motor Show in the Spring of 1970, and was a significantly wider vehicle than previous models. It was initially designed by Sergio Coggiola, but Gunnar A. Sjögren altered it to fit the existing chassis without expensive manufacturing-line changes. Due to many modifications, Coggiola's name didn't appear on the new vehicle, but he is still credited for a vast portion of the design. The Saab Sonett III came with pop-up headlights operated by manually operated levers, and in 1973 it received self-repairing bumpers. It also came with a hinged rear window that became the hatch to the rear luggage compartment that improved access. In 1974, unable to handle the more strict automobile emission control in the US, production on the Sonett III ended.
Showing items 1-11 of 11.