Datsun 240Z Fairlady Police Apparel and Accessories by Legend Lines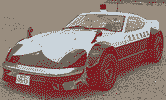 Datsun Fairlady 240Z Japanese Police 1972 The first generation FairladyZ S30 (also known as Datsun 240Z) was developed as successor of Datsun Sports 2000 and released in December 1969 in Japan. It became a big hit not only in Japan but in foreign countries such as North America because of the beautiful styling, improved driving comfort and safety, high performance engine, 4-wheel independent suspension, and the affordable price. The initial lineup in Japan had only 2.0-liter engines, however, 2.4-liter engine series, as well as the exported editions, was added in 1971. The top of the line 240ZG – with its long nose, over-fenders and rear spoiler – was the fastest Japanese car, boasting a top speed of 210km/h. That was this version that was used as a police car of Kanagawa Prefectural Police in March 1972until it reached the travel distance of 370,940km in total. Specially equipped for highway patrols, it features a siren, flashing red light, speedometer with stop device, radio. After retirement, this particular vehicle, was preserved by Nissan as a commemorative car.
Showing items 1-10 of 10.