Bonnet Matra DJet Apparel and Accessories by Legend Lines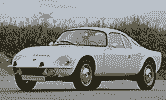 In 1959, Rene Bonnet and his partner Charles Deutsch, formed the company "Automobile DB". They built a successful line of LeMans class-winning sports prototypes. The union between these two did not last for long. Deutsch continued with the Panhard-based cars while Bonnet turned to Renault based cars. The Matra Djet was designed by René Bonnet and later modified by Matra. The car had various names in its life from 1962 till 1967: René Bonnet Djet, Matra Bonnet Djet, Matra Sports Djet and finally Matra Sports Jet.
Showing items 1-11 of 11.