Triumph Stag Apparel and Accessories by Legend Lines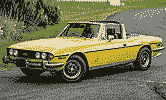 Triumph introduced its first ever V8 powered car: The Stag. Envisioned as a luxury sports car, the Triumph Stag was designed by the famous Giovanni Michelotti. A grand touring car in thought, the stag came in a convertible version with a detachable hard top and was to compete directly with the Mercedes-Benz SL class models.
Showing items 1-14 of 14.