Peugeot 304 Apparel and Accessories by Legend Lines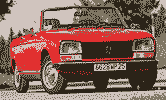 The Peugeot 304 was a small family car produced by the French manufacturer Peugeot between 1969 and 1979. The 304 was introduced to the public at the Paris Motor Show in September 1969. Peugeot, which had always been a financially prudent company, saw a gap in the midsize car market in France, Italy and the rest of Western Europe. By using the smaller 204's midsection, development costs were minimized resulting in a higher profit margin because of the higher pricing structure in the larger, better equipped market. The 304 was a success for Peugeot and was noted for several advanced features under its Pininfarina styled exterior. With its independent suspended front-wheel-drive drivetrain and disc brakes, it rode and handled better than most of its contemporaries. There was one significant 'revamp' in 1972, when the 'S' version came along. It stood out thanks to a sleek two-door body, a long deck lid reminiscent of sports cars especially with the top down.
Showing items 1-11 of 11.