Sunbeam Tiger Apparel and Accessories by Legend Lines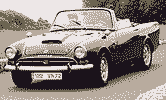 The Sunbeam Tiger continued the long tradition of putting a large American V8 in a small European car. Who other than Carroll Shelby would have done it better! The Sunbeam Tiger was an incredible sport car, able to go from zero-to-sixty in just 7.8 seconds and a myriad of aftermarket parts that improved the engines performance resulting in 245 HP.
Showing items 1-12 of 12.