Volvo PV544 Apparel and Accessories by Legend Lines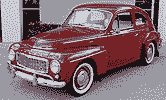 In 1958, the PV544 was introduced to the public. Subtle differences with the PV444 included the introduction of a curved one-piece windshield to replace the two panes of flat glass, larger taillights, and a ribbon-type speedometer and a 4-speed gearbox. The next significant change occurred in 1962, when Volvo changed from 6- to 12-volt electrical systems. In 1963 Volvo began producing the 544 at their new Canadian Dartmouth/Halifax plant, the first Volvo plant to be located outside of Sweden. The combination of performance and durability won over many two-seat sports car drivers, allowing them a pleasurable drive in the entire family's company if desired. The car had so endeared itself to its owners that Volvo ran self-deprecating advertisements in late 1965 and early 1966 imploring PV owners not to be angry with the company for ending production of the 544.
Showing items 1-11 of 11.