Volkswagen The Thing Apparel and Accessories by Legend Lines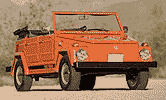 The Volkswagen Type 181 was designed as a forestry/military vehicle. It was built from 1969 through 1971 after which, Mexico began producing the vehicle. In Mexico it was called 'Safari'. Pontiac had a car already named 'Safari', so Volkswagen was unable to use that name in the US market. So the decision was made to label the vehicle, 'The Thing'. The Volkswagen Type 181 'Thing' was a very a durable transport vehicle that was nimble, lightweight, and inexpensive.
Showing items 1-11 of 11.