Auto Racing Signs by Legend Lines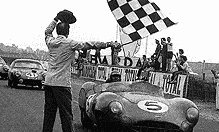 An auto mechanic is a tradesperson and mechanic with a variety of automobile makes or either in a specific area or in a specific make of automobile. In repairing cars, their main role is to diagnose the problem accurately and quickly. They often have to quote prices for their customers before commencing work or after partial disassembly for inspection. Their job may involve the repair of a specific part or the replacement of one or more parts as assemblies. Basic vehicle maintenance is a fundamental part of a mechanic's work in modern industrialized countries while in others they are only consulted when a vehicle is already showing signs of malfunction. Auto mechanics have many trades within. Some may specialize in the electrical aspects, while others may specialize in the mechanical aspects. Other areas include: brakes and steering, suspension, automatic or manual transmission, engine repairs or diagnosing customer complaints. With the rapid advancement in technology, the mechanic's job has evolved from purely mechanical, to include electronic technology. Because vehicles today possess complex computer and electronic systems, mechanics need to have a broader base of knowledge than in the past.
Showing items 1-30 of 30.