Range Rover Apparel and Accessories by Legend Lines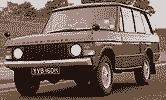 The Rover Company, the creator of the Land Rover marque, had been experimenting with a larger model than the Land Rover Series as far back as 1951, when the Rover P4-based two-wheel-drive "Road Rover" project was developed by Gordon Bashford. This was shelved in 1958, and the idea lay dormant until 1966, when engineers Spen King and Bashford set to work on a new model. In 1967, the first Range Rover prototype was built, with the classic Range Rover shape clearly discernible, but with a different front grille and headlight configuration. The design of the Range Rover was finalized in 1969. The Range Rover was launched in 1970. In the early 1970s, the Musée du Louvre in Paris exhibited a Range Rover as an "exemplary work of industrial design".
Showing items 1-10 of 10.