Datsun 510 SSS Bluebird Apparel and Accessories by Legend Lines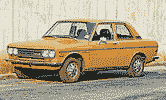 The Datsun 510 was a series of the Datsun Bluebird sold from 1968 to 1973, and offered outside the U.S. and Canada as the Datsun 1600. The 510 has often been called the "poor man's BMW". Affordable performance combined with simple and reliable mechanicals has helped the Datsun 510 remain a popular automotive enthusiast's car for nearly 40 years. Avid collectors can be found around the world with significant numbers in the U.S., Australia, and New Zealand. The Datsun 510 was equipped with front disc brakes, four-wheel independent suspension, rear-wheel drive, and either a four-speed manual or a three-speed automatic transmission. Two-door sedan, four-door sedan, and four-door station wagon variants were available. The 510, in some markets, was offered with twin Hitachi side-draft carburetors, these engines also used enhanced compression and camshaft profiles to produce more power. SSS models (not available for the U.S. 510) offered upgraded.
Showing items 1-12 of 12.