Citroen SM Apparel and Accessories by Legend Lines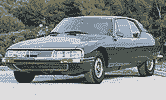 Citroen earned a reputation for innovation and revolutionary engineering, which is reflected in the company's slogan "Creative Technologie". Citroen developed elegant solutions to problems that most manufacturers simply ignored. Knowing that people drove their cars on all sorts of roads, Citroen created an ultra-smooth suspension that was height-adjustable so drivers could cope with various road surface qualities. But when 1970 rolled around, the French brand decided to try something riskier: a sporty Citroen.
Showing items 1-11 of 11.