Triumph TR4 - TR5 Apparel and Accessories by Legend Lines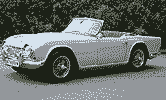 The Triumph TR4 was introduced in 1961, Giovanni Michelotti gave the modernism needed to the little car, big change from the classical cutaway door design of the earlier models. Quickly, it became one of Triumph's best-loved cars thanks to its attractive sticker price, sporty intentions. They could often be seen competing in many races providing plenty of podiums for their owners.
Showing items 1-13 of 13.