1960 - 1964 Chevrolet Pickup C/K Series Apparel and Accessories by Legend Lines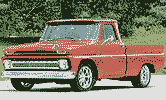 The Chevrolet C/K Series was Chevy and GMC's full-size pickup from 1960 through 1999 in the United States. The 'C' indicated two-wheel drive while the 'K' meant four-wheel drive. In 1960, Chevrolet introduced a new body style of light pickup truck that featured a drop-center ladder frame, allowing the cab to sit lower. In the front was an independent suspension setup. Half-ton models were the C10 and K10 short-bed trucks, and C16 and K15 long-bed trucks. The 3/4-ton models were the C20 and K20, as well as the one-tone C30.
Showing items 1-12 of 12.