Matra 530 M530 Apparel and Accessories by Legend Lines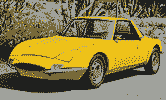 In 1965 Matra decided to develop a sports car that would be more accessible to the ordinary, non-racing public, a voiture des copains (car for chums), as a successor to the Matra Djet. The result was the first "true" Matra sports car, (the Djet had been a René Bonnet design) the Matra M530. It was first shown to the public in March 1967 at the Geneva Motor Show.
Showing items 1-11 of 11.