Ford GPW World War II Apparel and Accessories by Legend Lines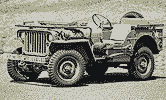 This is THE ultimate Legend, this the legendary G.I. workhorse of World War II: THE JEEP WILLYS! When the army needed a replacement for the vehicles they had been using, They submitted the standards to American auto makers.: The wheelbase had to be less than 75 inches, and the height under 36 inches, with a load capacity of 600 pounds. The engine had to run smoothly anywhere from 3 to 50 miles per hour with a rectangular shaped body. It was also required a windshield that folded down, have three bucket seats, have blackout driving lights and two speed transfer case with four wheel drive. Those pretty simple directions gave birth to one of the most Legendary vehicle ever built!
Showing items 1-10 of 10.