Lancia Stratos Apparel and Accessories by Legend Lines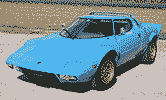 The Betone designed Stratos was built for one purpose, to win the World Rally Championship, and was developed as a homologation Special for European rallying.. Like no other Lancia before or after, the Stratos was a shock that left enthusiasts and rally fans breathless. For almost a decade the Stratos streaked across the rally landscape much like a brilliant comet, while discarding past principles, it also fearlessly represented something undeniably new. A phenomenal rally car, the Lancia Stratos set an example to every other car manufacturer in the world. The first viable purpose-built rally car ever built, the Stratos was probably the last purpose-built rally car. However, it makes an exciting road car, though it is very far from GT standards in both luxury and refinements. After production ceased it became a cult car and is now highly priced as the 'modern classis' it is.
Showing items 1-11 of 11.