Opel GT Apparel and Accessories by Legend Lines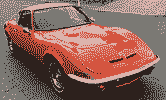 The Opel GT is a two-seat sports car first presented in 1965 at the Paris and Frankfurt motor shows. Production of the Opel GT began in 1968 and continued until 1973 by the German automaker Opel. Although the life of the GT was limited to six model years, the coupe was very well received by the public. The design was very eye-catching; it bore resemblance to the 1968 Chevrolet Corvette which seemed fitting since it was styled by Erhard Schnell and GM stylists such as Clare McKichan and Chuck Jordan. One unusual feature of the Opel GT was the operation of the pop-up headlights. They were manually operated, by way of a large lever along the center console. Unlike most pop-up headlights, they both rotated in the same direction about a longitudinal axis. A gold 1969 Opel GT was Agent 86 Maxwell Smart's car in the last season of the comedy TV series Get Smart.
Showing items 1-13 of 13.