Lancia Fulvia Apparel and Accessories by Legend Lines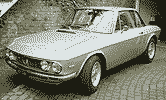 The Fulvia was the last Lancia wholly designed by the old-line automaker before it was acquired by the Fiat Group in 1969. Produced from 1965 until 1970, this technically advanced model featured front-wheel drive and a narrow angle OHC V-4. The Fulvia was a small, front-wheel-drive styled by Castagnero, and was produced in several variations until 1976. The coupe's styling was every bit as pure as the sedan's, yet the Fulvia coupe's shape was more interesting and unique. With sales that surpassed 300,000 units, the Fulvia sold in great numbers for a Lancia yet still was not a financial success. The coupe was successful in motor racing, which was used extensively in rallies. The highlight of the Fulvia's racing career came in 1972 when a Fulvia Rallye 1.6 HF won the International Championship for Manufacturers rally series. The Fulvia was arguably the last true Lancia. Though Lancia produced some incredible vehicles while under Fiat control, none of them had the classic combination of refinement and innovation that characterized pre-Fiat models.
Showing items 1-11 of 11.