About Us

Welcome to Legend Lines!
At Legend Lines, we specialize in unique, stylish and artistic designs of high-quality apparel and accessories for sports and classic car enthusiasts. As the creative force behind this company, I understand your needs because I am a sports and classic car enthusiast myself.
I am a huge race car fanatic! For as long as I can remember, I have been fascinated by everything about cars. I was captivated by the sleek beauty of their bodies, the distinct roar of a powerful engine, charmed by the comfort of old leather, and even dazzled by the fragrance of lead gasoline. Cars are my passion, and I love them all (well, most of them) - just like you!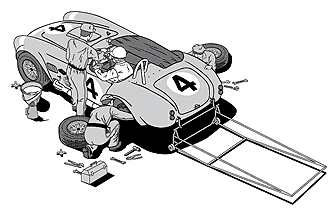 I am also a commercial artist. For more than 30 years, I have been a Creative Director. Illustrating and designing are passions of mine as well. With Legend Lines, I have the unique ability to combine my passion for cars and the creation of art. My hope is that our collection will enable you to creatively express your love of automobiles.
Legend Lines was created out of a bit of disappointment with the designs that were being marketed. My quest for quality began when I was looking for t-shirts I could wear to express my love of cars… discreetly.
As I was shopping, the designs I saw did not appeal to me. The only shirts I found were 'big splash color design' types that did not suit my personality or taste. I wanted a creative t-shirt, but I did not want to look like the loud and obnoxious car guy. The shirt designs were either too aggressive or made too much of a statement. So, I decided to design shirts for people who favored a refined and stylish collection.
With Legend Lines, my goal is to create styles that are unique to the market. I want my collection to be an artistic interpretation of my passion for classics and sports cars. I want this collection to be a tribute to those marvelous automobiles of the past. During each design phase, I strive to create simple and accurate illustrations that reveal the curves and beautiful details of these marvels. My collection also includes the 'forgotten lemon' cars of the past.
Cars that were produced in limited quantities and did not experience much success. The ones that may have been classified as quirky, but inevitably charmed us in the end.
I am proud to say that we have exceeded our goals. We created a collection of the most influential cars of the 20th century. With each new design, I'm very happy and somewhat proud to preserve the legacy of these models, to keep the memory of past era, but most of all, I'm so glad to offer you the opportunity to extend and show the love and passion for your precious automobile(s). I remember, years ago, way before the Internet, the happiness to finally find something related to my '55 Olds or my '69 Camaro SS, and I'm happy to offer a bit of that pleasure to you!
I strive for constant improvements and new ideas to make cool and stylish designs for my fellow Gentlemen and Ladies Drivers. So, If you think you've got a great idea, or if you like what you see on our site, spread the word about Legend Lines. We gladly welcome feedback. Send us an email with suggestions, questions or comments about our products.
Happy motoring to all
Patrick Chevalier, Founder of Legend Lines

About Legend Lines!
Legend Lines was founded in 2012 in Venice Beach, California, the birth place of THE most iconic car of the 60s - The AC Shelby Cobra!
In our early days, we started with a unique collection of a dozen t-shirts dedicated to this incredible roadster and her sister: the Daytona Coupe. Our tees appealed to car enthusiasts throughout the United States, Canada and Australia. We were happily surprised by the overwhelming response of the Cobra community.
Encouraged by our initial success, we decided to expand our collection of designs to include the most memorable European classics to passionate collectors throughout the world.
By the end of 2013, more than 70 British, German and Italian classics were added to the collection. 2014 was a turning point for Legend Lines. We included more than 80 new car models in our designs, and added a collection of Japanese Legends. We began to offer long sleeve tees, parking signs and cell phone cases. Later that year, we reached our first milestone of 500 products offered on our website! 
In 2015, we added 150 new car models, women's tees and some cool decor for man caves. The goal of keeping the memory of these incredible classic cars alive was taking shape and we were ready for more!

Today,  we are still growing by leaps and bounds. We have added 350 new models, polo shirts and baseball caps. Creatively, Legend Lines has never been in a better place, the creative juice is flowing our motor heads!
In addition to our beloved homeland, the United States, we proudly serve customers in Australia, South Africa, Russia, South America, Japan, Europe, Canada and other foreign lands . Thank you to our thousands of loyal customers worldwide!
Our customers are important to us. We encourage you to send ideas for future collections, and you never know, it could make the new coolest and stylish shirt! If you like what you see on our site, spread the word about Legend Lines. And don't forget too, to send pictures of you posing with your legend. We gladly welcome feedback, suggestions, questions or comments about our products.