Volvo P1800 Apparel and Accessories by Legend Lines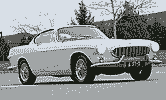 Volvo wanted a sports car, and the project was started in 1957, despite the fact that their previous attempt, the P1900, had been a disaster, with only 68 cars sold. Volvo had established a reputation for building sturdy, and robust sedans more than capable of surviving the rigorous Scandinavian climate. All this changed in 1961 with the introduction of the P1800. Combining a sophisticated Italian design with tough Swedish mechanicals, this new Volvo revitalized the company's image. With reliability, comfort, and practicality, the P1800 was a Volvo through and through. It managed to have a personality all its own, though, and a character much more engaging than its drab siblings. The P1800 was a 2+2 with two seats up front for adults and a couple of chairs for the kids in back and made the car surprisingly useable for an attractive sports car. Its size, though, suggested that it wasn't really a sports car at all. Instead, the P1800 was intended to be a grand touring machine with style and panache capable of traveling down the highway at a quick enough clip of speed, toward some fashionable destination. Looking at the car in that context, its no surprise that the Volvo was able to accomplish its mission and end up a strong seller.
Showing items 1-11 of 11.