Volvo P120 P122S Apparel and Accessories by Legend Lines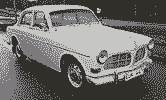 The Volvo P120 Amazon was introduced in 1957, and was designed by a young Swede named Jan Wilsgaard and had a clean, European look and feel that helped establish a positive international reputation for Volvo. Despite this eventual success, though, the moments before production of the Amazon and P120 were controversial. The Amazon series faced problems with German moped builder Kreideler which had launched a new bike named the Amazone around the time of the Volvo Amazon's inception. To get the story short Volvo was forced to strike a deal with Kreidler, and legion of names were given to the car P120, P122, P122S, P220, P130 etc. The Volvo Amazon was produced from 1956 to 1970, and was introduced in the USA as the 122S at the New York International Auto Show in April 1959.
Showing items 1-11 of 11.