Chevrolet Camaro Apparel and Accessories by Legend Lines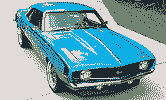 The first-generation Chevrolet Camaro appeared in 1967 and right away it was a enormous success and a impressive response to Mustang. The 1969 redesigned model gave the car a much lower, wider, more aggressive and sportier look than the 2 previous year models. The grille was redesigned and the headlights now sat farther back adding to the aggressive features of the car. Newly reshaped door, rear quarter panel, and rear valence gave the 1969 Camaro a smooth, low, and wide stance. It was available in two bodystyles, a coupe and convertible, and was highly customizable, with over seventy factory and forty dealer options available. The production of the 1969 Camaro, which continued into December of 1969, was the final year for the first generation Camaro, and It was the ever-popular '69 that inspired the 2010 revival of the marque.
Showing items 1-11 of 11.