Porsche 911 Targa Polizei Apparel and Accessories by Legend Lines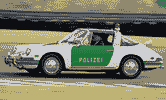 Porsche 911 Targa German Polizei (police) 1971
Chances are high that some of us have been pulled over IN a Porsche before, though chances are much lower that any of us have been pulled over BY a Porsche. Porsche has been producing highway patrol vehicles for several governments and municipalities since the early days of the company history.  From the 1950s, Porsche produced Polizei autos based on 356A Cabriolet models, and continued to do so through the end of 356 production with 10 final cop cars built in 1966. The first Porsche-badged cars were made in Austria. As with the 356 that came before, the Dutch, Belgian, German and Austrian police all had 911s on their highway patrol fleets. It wasn't until 1968 that Porsche began producing police vehicles again in 911 guise. A 911 may not be the most practical car for patrols or transporting bad guys to jail, but for chasing down speeders, it's pretty much unbeatable. Just the look of it on a highway would convince motorists that they would be no match against it, easing them off the accelerator. Equipped for patrolling the autobahn with green paint of the Polizei and dotted with sirens, lights and a loudspeaker on the engine grille.