Toyota BJ55 FJ55 Apparel and Accessories by Legend Lines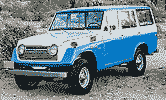 The Land Cruiser 55 was produced from 1967 to 1980. Toyota refers to the FJ55G and FJ55V as the first "real" station wagon in the Land Cruiser series, thus marking the beginning of the station wagon branch. It was the first Land Cruiser to have fully enclosed box frame members. Of all the Land Cruiser wagons sold in the U.S., including the FJ45, it is the only one to not have hatch and tailgate in the rear, but rather a tailgate only with an electrically operated window that can be retracted into the tailgate. It was colloquially known as the "Moose". It has also been referred to as a "pig" or an "iron pig". The FJ55 was designed to be sold in North America and Australia, but conquered a huge part of the rest of the world.
Showing items 1-11 of 11.