Land Rover Series I Apparel and Accessories by Legend Lines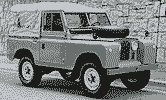 Launched by Rover in 1948, Land Rover developed into a marque encompassing a range of four-wheel-drive models. The first Land Rover was officially launched 30 April 1948, at the Amsterdam Motor Show. Although the brand originates from the original 1948 model, Land Rover as a company has only existed since 1978. Land Rover is the second oldest four-wheel-drive car brand in the world, after Jeep. Over its 65-year history, Land Rover has built some of the finest off-road vehicles for individual, commercial and armed forces of numerous countries around the globe uses. They have built a reputation on quality, durability, and ruggedness. What do you want more from a Legendary Car?
Showing items 1-10 of 10.