Jensen Interceptor Apparel and Accessories by Legend Lines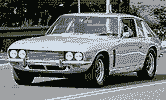 Jensen Motors Ltd was a British manufacturer of sports cars established in 1934 as a small specialist coachbuilding operation run by brothers Richard and Alan Jensen. Soon after they were commissioned by famous actor Clark Gable to design and build a car. The resultant car won them much acclaim and stimulated huge interest in their work. After WWII they resume their work, but few cars were produced since raw materials were still scarce. In the 50s Jensen starts producing Sport Cars as their masterpiece, the 541, which used the then-revolutionary material of fiberglass for its bodywork. For its replacement, Jensen launched the Interceptor in 1966. The Interceptor was offered in fastback, convertible and (rare) coupé versions. By 1975, the company's future was under threat, and Jensen Motors ceased trading in May 1976, and started a Legend.
Showing items 1-11 of 11.