Matra Murena Apparel and Accessories by Legend Lines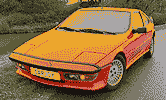 The Murena, whose name is Italian for "Moray", was the successor to the Matra Bagheera, a similar vehicle that resulted from an earlier collaboration between Matra and Simca. The Murena inherited the Bagheera's mid-engined layout and hatchback body shape, but substantial changes were made to address some of the problems with the previous model, among which were a lack of power, absence of a 5-speed transmission option, and a chassis extremely prone to rust. Engineering of the car was done entirely by Matra. Greek industrial designer Antonis Volanis, who had contributed to the interior of the earlier Bagheera and been principal designer for the Matra Rancho, headed up the design. The styling of the 3-door hatchback Murena was sleek and aerodynamic. The seating was unique, with all three seats placed in one row, with the middle seating able to fold down becoming an armrest. The Murena drew heavily from the corporate parts bin, using engines from the Talbot Solara and Talbot Tagora. A total of 10,680 Matra Murena's were produced during its production period.
Showing items 1-11 of 11.