Morgan 4/4 Apparel and Accessories by Legend Lines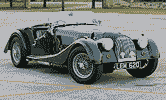 The Morgan 4/4 was first introduced in 1936. Up to this date, Morgan was building exclusively 3-wheelers equipped with a V-twin engine vehicle. The two "4" stood for the numbers of cylinders and wheels used in this legendary roadster. Except during WWII, the Morgan production has been constant since its creation. Many variations, body styles, and series have been released, but the Morgan 4/4 has stood the test of time and entered the Legend.
Showing items 1-10 of 10.