Volkswagen Type 82 Kubelwagen Apparel and Accessories by Legend Lines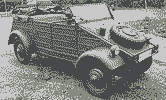 The Volkswagen Kübelwagen,literally "Tub" car, was a light military vehicle designed by Ferdinand Porsche and built by Volkswagen during World War II for use by the German military. Based heavily on the Volkswagen Beetle, it was prototyped as the Type 62, but eventually became known internally as the Type 82. It was not until January 1938 that high-ranking Third Reich army officials formally approached Porsche about designing an inexpensive, light-weight military transport vehicle, that could be operated reliably both on- and off-road, in even the most extreme conditions. This implied that the Beetle could provide the basis for such a vehicle. Full-scale production of the Type 82 Kübelwagen started in February 1940, as soon as the VW factories had become operational. No major changes took place before production ended in 1945. When Volkswagen production ceased at the end of the war, 50,435 Kübelwagen vehicles had been produced, and the vehicle had proven itself to be surprisingly useful, reliable, and durable. Long after the end of the war, VW resurrected the basic Kübelwagen design as the 1969 Type 181, developed for the German Federal Armed Forces and later also produced for the civilian market, known as "Thing" in the US, "Trekker" in the UK, and "Safari" in Mexico. The Kübelwagen was for the Germans what the Jeep and GAZ-67 were for the Allies.
Showing items 1-11 of 11.