Daimler SP250 Apparel and Accessories by Legend Lines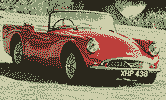 The Austin Motor Company Limited was an English manufacturer, founded in 1905 by Herbert Austin. In 1952 it was merged with Morris Motors Limited in the new holding company British Motor Corporation (BMC) Limited, keeping its separate identity. The company offered some amazing car during the post war era, and several join ventures with other companies resulted in fabulous automobile as the Austin-Healey, Austin Minor, Austin Metropolitan, FX series London taxi to name only few, but the most remarkable was to come. In the mid 50s, with the threat to fuel supplies a small car had to be designed; the result was the revolutionary Mini, launched in 1959. The marque Austin was used until 1987.
Showing items 1-12 of 12.