Saab 900 Turbo Apparel and Accessories by Legend Lines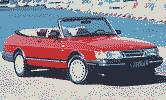 The Saab 900 was introduced in 1978 as the new 1979 model. With a strong link to its predecessors, and was produced for more than fifteen years. More than 900,000 units were produced during the lifetime of the Saab 900, with almost 50,000 of which were the stylish 900 convertible. The convertible concept was shown for the first time at the Frankfurt Motor Show in 1983. The first prototype aroused enormous interest and in April 1984, Saab decided to put the car in production. The production of the first 900 convertible started during the spring of 1986. Designed by Björn Envall, the convertible was based on the 3-door hatchback and was not planned to be large but the orders kept coming in and a classic was born. The vehicle of choice, the Saab 900 Turbo was James Bond's most often featured vehicle in numerous John Gardner Bond novels of the 1980's.
Showing items 1-11 of 11.