Alpine Renault A310 Apparel and Accessories by Legend Lines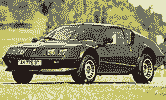 The Alpine A310 was debuted to the public at the 1971 Geneva Auto Show and was meant as a replacement for the A110. The production version of the A310 began in 1972 utilizing the same basic design and chassis as the A110 Berlinette. The Alpine A310 was produced from 1971 through 1984. In 1978, a restyling by Robert Opron resulted in a larger engine compartment which meant an Alpine modified 2.7-Liter V6 RPV engine. The A310 was used in French Motorsports where it had much success, competing as a Group 4 car.
Showing items 1-13 of 13.