1972 - 1983 Jeep CJ5 CJ-5 Apparel and Accessories by Legend Lines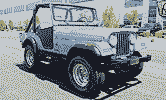 The "CJ" is the civilian version of the infamous Jeep Willys, which came out of World War II as the ultimate icon of Liberty. Due to its popularity, a civilian version named CJ (Civilian Jeep) was designed as early as 1944. Of all the civilian versions, the CJ5 / CJ-5 was the most popular. It has the distinct honor of being a vehicle that was hard to kill off... equaling the longest production run. Many changes took place during this exceptionally long life, and several special models were designed: Tuxedo, Camper, 462, Renegade, Super Jeep, Golden Eagle, Silver Anniversary, Golden Hawk. A total of 603,303 CJ-5s were produced between 1954 and 1983.
Showing items 1-10 of 10.