Volvo 1800ES Apparel and Accessories by Legend Lines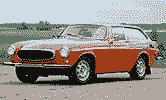 The Volvo 1800 ES was introduced to the public in 1972. It featured long rear quarter windows, C-pillars, and a rear backrest that folded down, increasing the amount of available storage space. The 1800ES is a bit of both world, a coupé and a station wagon, sometimes described as a shooting-brake, with an elegant all-glass tailgate,. The final design was chosen after two prototypes had been built by Sergio Coggiola and Pietro Frua. Frua's very unusual looking prototype, Raketen "the Rocket". Both Italian prototypes were considered too futuristic, and instead in-house designer Jan Wilsgaard's proposal was accepted. With stricter American safety and emissions standards looming for 1974, Volvo did not see fit to spend the considerable amount that would be necessary to redesign the small-volume 1800 ES. Only 8,077 examples of the ES were built in its two model years. The all-glass rear hatch of the ES-model proved to be very popular with future Volvo-designers. A similar design was used on the Volvo 480. In Sweden, the P1800ES was nicknamed Fiskbilen (The Fish van) while in Germany it was named Schneewittchensarg – (Snow White's Coffin).
Showing items 1-11 of 11.