Peugeot 404 Apparel and Accessories by Legend Lines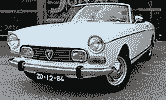 The Peugeot 404 was produced from 1960 to 1975. Styled by Pininfarina, the 404 was offered initially as a saloon, estate, and pickup. A convertible was added in 1962, and a coupé in 1963. The Peugeot 404 cabriolet/convertible made its first appearance at the Paris Motor Show in October 1961 The convertible was made by the Pininfarina workshops in Turin and only the floorpan and mechanical elements were shared with the saloon.
---
Select the model to refine your search
Showing items 1-11 of 11.