Mazda Miata MX-5 Apparel and Accessories by Legend Lines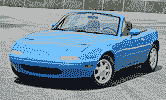 Mazda began as the Toyo Cork Kogyo Co., Ltd, in 1920. Toyo Cork Kogyo renamed itself to Toyo Kogyo Co., Ltd. in 1927. In the late 1920s the company had to be saved from bankruptcy by Hiroshima Saving Bank and other business leaders in Hiroshima. In 1931 it moved from manufacturing machine tools to vehicles with the introduction of the Mazda-Go autorickshaw. The company formally adopted the Mazda name in 1984, though every automobile sold from the beginning bore that name. The Mazda R360 was introduced in 1960. Beginning in the 1960s, Mazda was inspired by the NSU Ro 80, and decided to put a major engineering effort into development of the Wankel rotary engine as a way of differentiating itself and began with the limited-production Cosmo Sport of 1967. Mazda has become the sole manufacturer of Wankel-type engines for the automotive market. Mazda refocused its efforts and made the rotary engine a choice for the sporting motorist rather than a mainstream powerplant. This switch in focus also resulted in the development of another lightweight sports car, the piston-powered Mazda Roadster (better known as the MX-5 or Miata). Introduced in 1989 to worldwide acclaim, the Roadster has been widely credited with reviving the concept of the small sports car after its decline in the late 1970s. A reborn Legend.
Showing items 1-11 of 11.