Renault 8 Gordini Apparel and Accessories by Legend Lines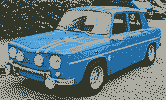 The Renault R8 rear-engined, rear-wheel drive small family cars was introduced in June of 1962 and was based on the Renault Dauphine, both having the same wheelbase, but with the R8 being slightly narrower. It had a sealed for life cooling system, four-wheel disc brakes, and a Renault 956cc four-cylinder rear-mounted engine. A more powerful version, the 8 model R1134 Gordini, was released in 1964, with a tuned engine of the same capacity but developing  89 hp. The extra power was obtained by a cross-flow head and twin dual-choke 40mm side-draft Solex carburetors. The R1134 Gordini was originally available only in blue, with two stick-on white stripes. The car has won the Tour de Corse, Rally Poland, Rallye Açores, Rali Vinho da Madeira, Boucles de Spa and Rajdowe Samochodowe Mistrzostwa Polski. Bob Watson won the 1970 Australian Rally Championship and was runner-up in the 1971 Australian Rally Championship driving an R8 Gordini. The Renault 8 was awarded Wheels Magazine Australia's Car of the Year Award. .
Showing items 1-11 of 11.