Ford Bronco Apparel and Accessories by Legend Lines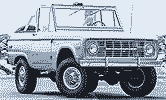 The new Ford Bronco, launched as a 1966 model, was Ford's first dedicated 4x4 sport-utility vehicle, and designed to compete with the off-road Jeep and International Harvester's Scout. The Bronco's design was fairly square with flat glass, and no-frills bumpers. Several body styles including a wagon, pickup-style half-cab, and a Spartan Jeep-style roadster were available. When introduced the Bronco was instantly popular and it took a few years for other marques to catch up with that climbing Legend.
Showing items 1-10 of 10.