Toyota BJ60 FJ60 Apparel and Accessories by Legend Lines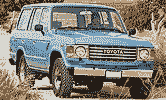 During WW2, the Imperial Japanese Army found an old Bantam Jeep. They military authorities ordered Toyota to make a similar vehicle. By reverse-engineering it, Toyota developed the AK10, and gave them their first experience on making 4x4s. Production of the first generation Land Cruiser began in 1951. The Land Cruiser 60 series was introduced in 1980. It was a front engine, four door wagon. Like all Land Cruiser generations, it is well known in the off-road world for its off-road abilities. The Land Cruiser's reliability and longevity has led to huge popularity, especially in Australia where it is the best-selling body-on-frame, four-wheel drive vehicle. Toyota also extensively tests the Land Cruiser in the Australian outback — considered to be one of the toughest operating environments in both temperature and terrain.
Showing items 1-11 of 11.