Alpine Renault A110 Apparel and Accessories by Legend Lines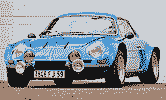 The Alpine A110, also known as the "Berlinette", was a sports car produced by the French manufacturer Alpine from 1961 to 1977. The A110 achieved most of its fame in the early 1970s as a victorious rally car. After winning several rallies in France in the late 1960s. The car reached international fame during the 1970-1972 seasons when it participated in the newly created International Championship for Manufacturers, winning several events around Europe and being considered one of the strongest rally cars of its time.
Showing items 1-13 of 13.