1933 - 1934 Ford Classic Hot Rod Apparel and Accessories by Legend Lines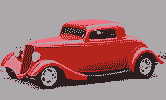 The term seems first to have appeared in the late 1930s in southern California, where people would race their modified cars on the vast dry lake beds Hot rods are old (or new), classic American cars with large engines modified for look and speed. The car that had been "hopped up" by modifying the engine in various ways to achieve higher performance, while the body of those "common" cars are transformed into rolling sculptures. A remarkable attention to details is given by those "Garaged Automakers", winning their place in the Legend. The Ford roadster and coupe 1933 - 1934 marked a change in automotive design, and they represented the shift from the traditional styling of the time to smoother, more aerodynamic shapes. They were popular even in the midst of the depression and they continue to be popular with hot-rodders.
Showing items 1-10 of 10.