1951 - 1954 Chevrolet Pickup Advance Design Series Apparel and Accessories by Legend Lines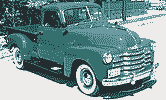 The Chevy pick up (and its GMC's brother) was General Motors' first major redesign following World War II. Delivering a design that was rougher and tougher and more durable than previous designs, the 3100 was much more updated. Launched in June of 1947, the 'Advanced Design' trucks, featured modern styling, a larger cab, more comfortable seating, and better visibility. The 3100 Pickup came in three sizes, the half, three-quarter, and full ton capacities in both long and short wheelbases. It was produced from 1947 until March of 1955, with few updates throughout the years, but the overall same design stayed the same.
Showing items 1-13 of 13.